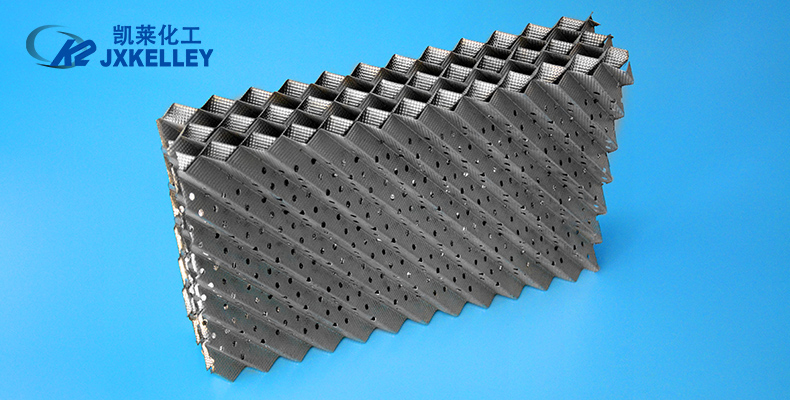 The corrugated metal plate packing is made of the porous plate with grooves on the surface, which maintains the structural characteristics of the corrugated metal packing, enhances the liquid distribution and the wettability of the packing, and improves the mass transfer efficiency. Metal orifice corrugated packing has the advantages of large flux, small resistance, high efficiency and strong anti plugging ability. The main materials of metal orifice corrugated packing are stainless steel 304, 316, 316L, carbon steel, aluminum alloy pure copper, etc. other materials can be used according to the requirements, which are universal and efficient structured packing suitable for chemical industry, chemical fertilizer, oil refining, petrochemical industry, natural gas and other industries. Features: large flux, small resistance and high efficiency. It is widely used in distillation, absorption, extraction and other unit operations.
It has the characteristics of large flux, low pressure, uniform gas-liquid distribution and high separation effect, and has better anti plugging performance than other structured packing.
● corrugated packing of metal orifice plate shall be arranged in accordance with uniform geometry in the tower and stacked neatly. He defined the gas-liquid flow path, improved the channel flow and wall flow phenomenon, the pressure drop can be very small, but it can provide more specific surface area, and achieve higher mass transfer and heat transfer effect in the same volume.

| | | | | | | |
| --- | --- | --- | --- | --- | --- | --- |
| Model | Specific surface area | Voidage | Hydraulic diameter | Packing factor | Theoretical plate number | pressure drop |
| 125Y | 125 | 98.5 | 18 | 3 | 1-1.2 | 1.5 |
| 250Y | 250 | 97 | 15.8 | 2.6 | 2-3 | 1.5-2 |
| 350Y | 350 | 95 | 12 | 2 | 3.5-4 | 1.5 |
| 450Y | 450 | 93 | 9 | 1.5 | 3-4 | 1.8 |
| 500Y | 500 | 92 | 8 | 1.4 | 3-4 | 1.9 |