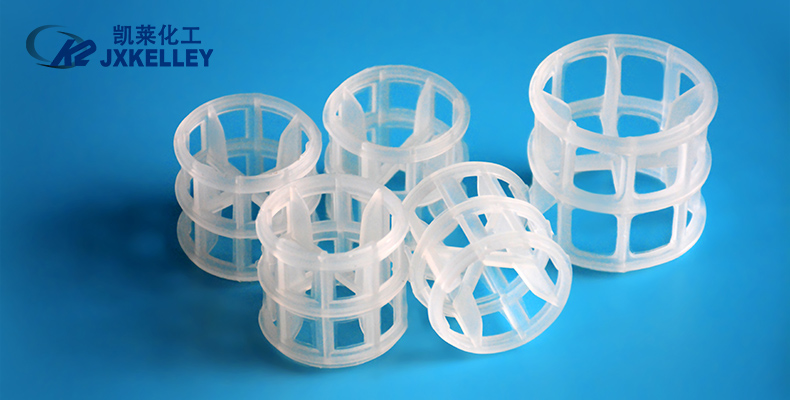 Plastic high-flow ring packing is a gridded open-hole tower packing developed on the basis of the pall ring structure. The open-hole rate of high-flow ring packing is more than 50%, and the bed voids are higher than those of the same specification pall ring. Therefore, high-flow ring packing of polypropylene has higher fluid flux. The pressure drop per meter of polypropylene high flow ring packing is 45% lower than that of pall ring. Polypropylene high flow ring packing due to the vertical frame section up and down staggered arrangement, the central ring with reinforcement, rigidity and strength is better. It is characterized by high production capacity, low pressure and suitable separation of heat sensitive materials.
● high flow ring is the third generation of high efficiency filler, which can maintain high mechanical stability, porosity and mass transfer effect. When more efficient packing is required, the high flow ring is due to its open structure and design. More gas or liquid can be processed without sacrificing mass transfer.
name
Plastic high flow ring
material
PP,PE,PVC,CPVC,PVDF ,etc
life
>3 years
size
area
Void
weight
mm
m2/m3
%
Kg/m

3

16
260
91
80
25
210
92
79
38
140
94
58
50
100
94
54
90
73
96
33
mance
High voidage, low pressure, low height of mass transfer unit, high flooding point, sufficient gas-liquid contact, small specific gravity, high mass transfer efficiency

advant

ages

1. The special structure makes it have large circulation, low pressure and good mechanical strength.
2. Strong corrosion resistance, large void ratio, energy saving and environmental protection, low cost, light specific gravity easy loading and unloading.

Appli

cation field

Plastic bulk packing is widely used in petroleum, chemical industry, chlor-alkali, gas, environmental protection and other industries.
Properties

materials

PE
PP
RPP
PVC
CPVC
PVDF
Density
0.98
0.96
1.2
1.7
1.8
1.8
Operating
90
>100
>120
>60
>90
>150
resistance
GOOD
GOOD
GOOD
GOOD
GOOD
GOOD
strength
>6.0
>6.0
>6.0
>6.0
>6.0
>6.0