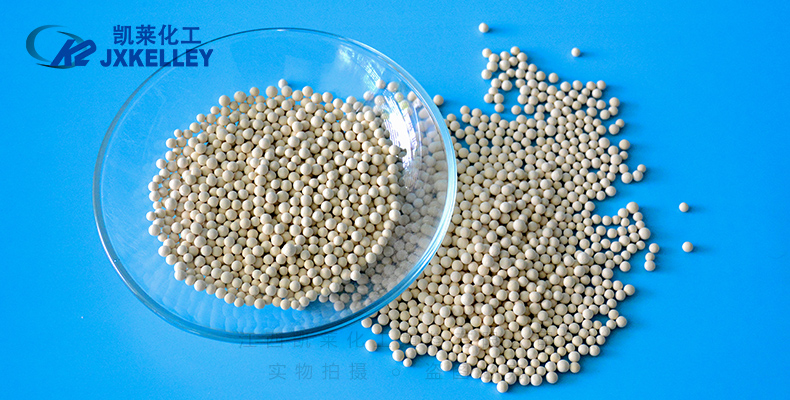 The diameter of the 4A molecular sieve is 4A, which adsorbs water, methanol, ethanol, hydrogen sulfide, sulfur dioxide, carbon dioxide, ethylene and propylene. It does not adsorb any molecule (including propane) with diameter greater than 4A, and has a higher selective adsorption capacity for water than any other molecule. It is one of the molecular sieves in industrial use.
Molecular sieve is a synthetic silicoaluminate with microporous cubic lattice. Molecules of different substances are adsorbed or repelled according to the size of the holes in the crystals, hence the name "zeolites". Substances whose molecular diameter is smaller than the diameter of the holes in the molecular sieve crystals can enter the molecular sieve crystals and be adsorbed; otherwise, they are rejected.
● molecular sieves determine the priority order of adsorption according to the polarity of molecules of different substances. Adsorption is selected according to the size and shape of molecules, that is, only those molecules smaller than the diameter of the zeolite are adsorbed. For small polar molecules and unsaturated molecules, there are selective adsorption properties, the greater the polarity, the higher the unsaturation, the stronger the selective adsorption.
●A zeolite belongs to one of the zeolite, whose structure is very similar to that of NaCl and belongs to the cubic crystal system. Since the effective pore diameter of 4A zeolite is 0.4nm, it is called 4A zeolite. Its spatial network structure is composed of silicon-oxygen tetrahedral units [SiO4] and aluminum-oxygen tetrahedral units [AlO4] staggered.
perfor

mance

unit

Technical

indicators

shape
bar
spherical
diameter
mm
1.5-1.7
3.0-3.3
1.7-2.5
3.0-5.0

size

acceptance

%
≥98
≥98
≥98
≥98

Packing

density

g/ml
≥0.66
≥0.66
≥0.70
≥0.70

Wear

rate

%
≤0.20
≤0.40
≤0.20
≤0.20

compressive

strength

N
≥30/cm
≥45/cm
≥30/p
≥70/p

water

adsorption

%
≥21
≥21
≥21
≥21
Methanol
%
≥15
≥15
≥15
≥15

Packed

water

content

%
≤1.5
≤1.5
≤1.5
≤1.5