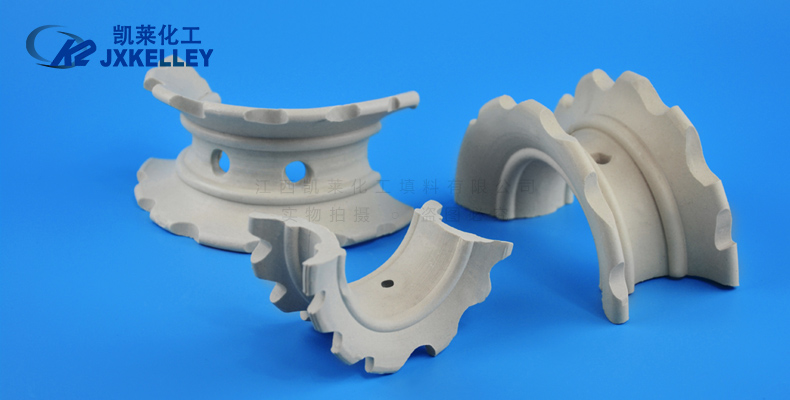 Different saddle ring is ceramic arc improved product of saddle ring, ceramic rectangular saddle ring changed with gear side arch appearance, the structure design of improved ceramic different specific surface area and porosity of saddle ring, ceramic saddle ring gap distribution evenly, greatly improving the distribution of the fluid, is better than ceramic raschig ring with the gap rate and lower pressure drop.
● ceramic different saddle ring has excellent resistance to acid and heat, can and can withstand all kinds of inorganic acids, organic acids and organic solvents except hydrofluoric acid corrosion, and can be used in high or low temperature environment.
● ceramic moment saddle ring can be used in drying tower, absorption tower, cooling tower, washing tower in the chemical industry, metallurgy industry, coal and natural gas industry, industrial oxygen production industry, and so on. Ceramic moment saddles are used in two main areas, but this depends on the actual application of different performance requirements. One area is the chemical and petrochemical industries, the other is the environmental protection field is used in the RTO thermal storage incinerator and other waste gas treatment environmental equipment.
SiO

2

+ Al

2

O

3

>92%
CaO
<1.0%
SiO

2

>76%
MgO
<0.5%
Al

2

O

3

>17%
K

2

O+Na

2

O

<3.5%
Fe

2

O

3

<1.0%
Other
<1%
size
ply
area
Void
number

prop

ortion

mm
mm
m2/m3
%
Per/m3
kg/m3
25mm
3-3.5
160
78
53000
650
38mm
4月5日
102
80
16000
600
50mm
5月6日
88
80
7300
580
76mm
8.5-9.5
58
82
1800
550