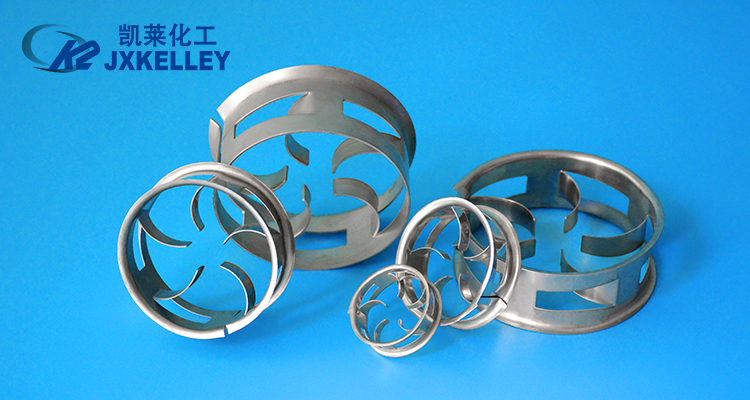 Metal stepped ring tower packing, with one or two beveled edge sides, has better mechanical strength and better gas throughput than Bauer ring. In bulk packed columns, most ring point contacts (not linear contacts) lead to liquid membrane fluidity and mass transfer efficiency. Kelly's metal process ring is widely used in petroleum, chemical, chlor alkali and environmental protection industries.





The metal step ring is a new type of open hole packing. Its height is about half of the diameter, one side has a tapered flange, the ring wall has a window hole, and a curved blade extends to the ring center. Due to the special structure of reduced height and tapered flanging, not only the gas-liquid distribution in the packing layer is improved, but also the gas-liquid contact point is increased, which is conducive to the liquid convergence and dispersion and the continuous renewal of the membrane surface, so that the mass transfer is strengthened and the separation efficiency is greatly improved.

The flux of metal step ring packing is 10-20% higher than that of Bauer ring packing, and the pressure is 30-40% lower. The separation efficiency is improved in different degrees depending on the specific process. Up to now, more than 1000 step ring packed towers have been used in absorption, steam distillation and other operations around the world. According to the specific situation, the step ring can replace the west ring, the ball ring, the bubble cover plate, the float valve plate and the sieve plate, so as to achieve the purpose of high efficiency, high yield and energy saving.



Model

size

mm

Spe

cific

sur

face

area

m2

m3

Voi

d

%

A

cc

um

u

p

er

m

Pa

ck

fac

tor

m-1

0P

17*15*6*0.3

427

94

530,000

55

1P

25*22*8*0.3

230

96

150,000

40

1.5P

34*29*11*0.3

198

97

60,910

29

2P

43*38*14*0.4

164

97

29,520

22

2.5P

51*44*17*0.4

127

97

17,900

17

3P

66*57*21*0.4

105

98

8,800

14

4P

86*76*89*0.4

90

98

5,000

10

5P

131*118*41*0.6

65

98

1,480

7